Hurricane Ian: Impact Report
https://adaptready.com/wp-content/themes/movedo/images/empty/thumbnail.jpg
150
150
adapt ready
https://secure.gravatar.com/avatar/233c811c4260a934276d71248d47d47d?s=96&d=mm&r=g
As Hurricane Ian finishes raking over central Florida after making landfall near Fort Myers, FL, a hairsbreadth away from Category 5 status, we can start to assess the impact this devastating storm will have on global supply chains.
It is consistently surprising, even for us at Adapt Ready, how interconnected companies are and when a disaster strikes a densely packed zone of development like the central Florida coast, the effects are felt as far away as the Middle East, China, Australia, South Africa and Europe.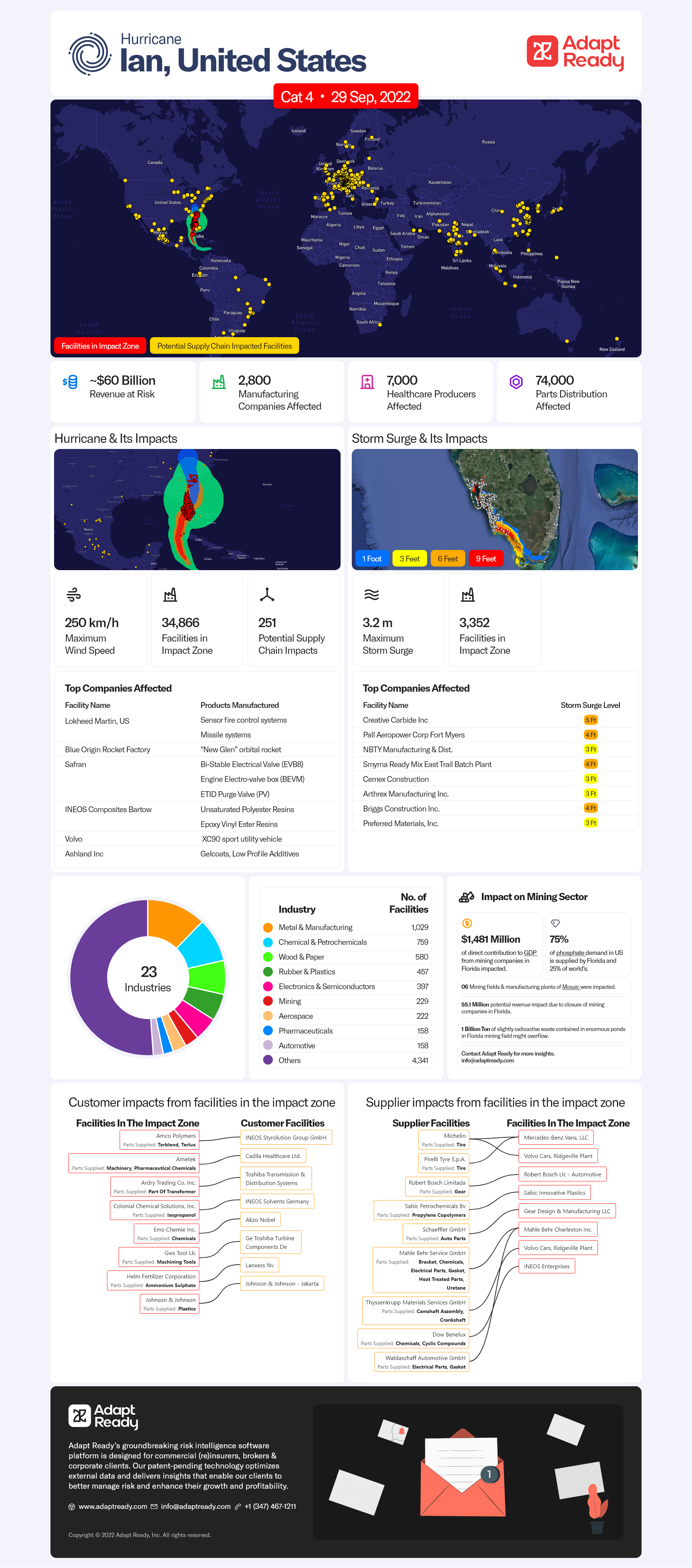 Our platform has tracked nearly 35,000 facilities in the current estimated impact zone with the most affected companies being concentrated in aerospace (Lockheed Martin, Blue Origin Rocket Factory) and manufacturing (Safran, Volvo) and, surprisingly, mining.
From this second map, we can see that phosphate mining is quite intensive in the region right in the path Hurricane Ian took after landfall (the colored areas in the middle present the largest concentration of phosphate mines in America and second only to Morocco in the world).
Florida represents about 25% of the global supply of phosphate and though these mines are unlikely to experience substantial and prolonged disruption, there is a real concern with the possible pollution that emanates from these mines during a storm (see article).
Normally it's likely there are large stockpiles of primary commodities like phosphate and short-term price disruptions are mitigated by hedging instruments for commodity buyers. However, this remains another example of how information about supply chain concentrations and bottlenecks can improve risk management in the face of natural disasters.
It is also important to recognize that supply chain disruptions don't only impact the primary inputs. Note the bottom of our infographic which lists several suppliers impacted by their customers' disruptions: Michelin Tires impacted by Volvo and Mercedes manufacturing plants and in the forthcoming South Carolina landfall, Dow Chemical by disruption to Mahle Behr in Charleston which specializes in auto cooling and air conditioning components.
In addition to all the above, Tampa has the largest port in Florida and disruptions to its operations could exacerbate direct damage to the sectors noted above and cause further congestion to other transportation facilities as goods are redirected.
Even though the phosphate industry may not suffer tremendously from damage by hurricanes, the fact of extreme specialization and concentration in certain supply chains could have long lasting impacts in other sectors.