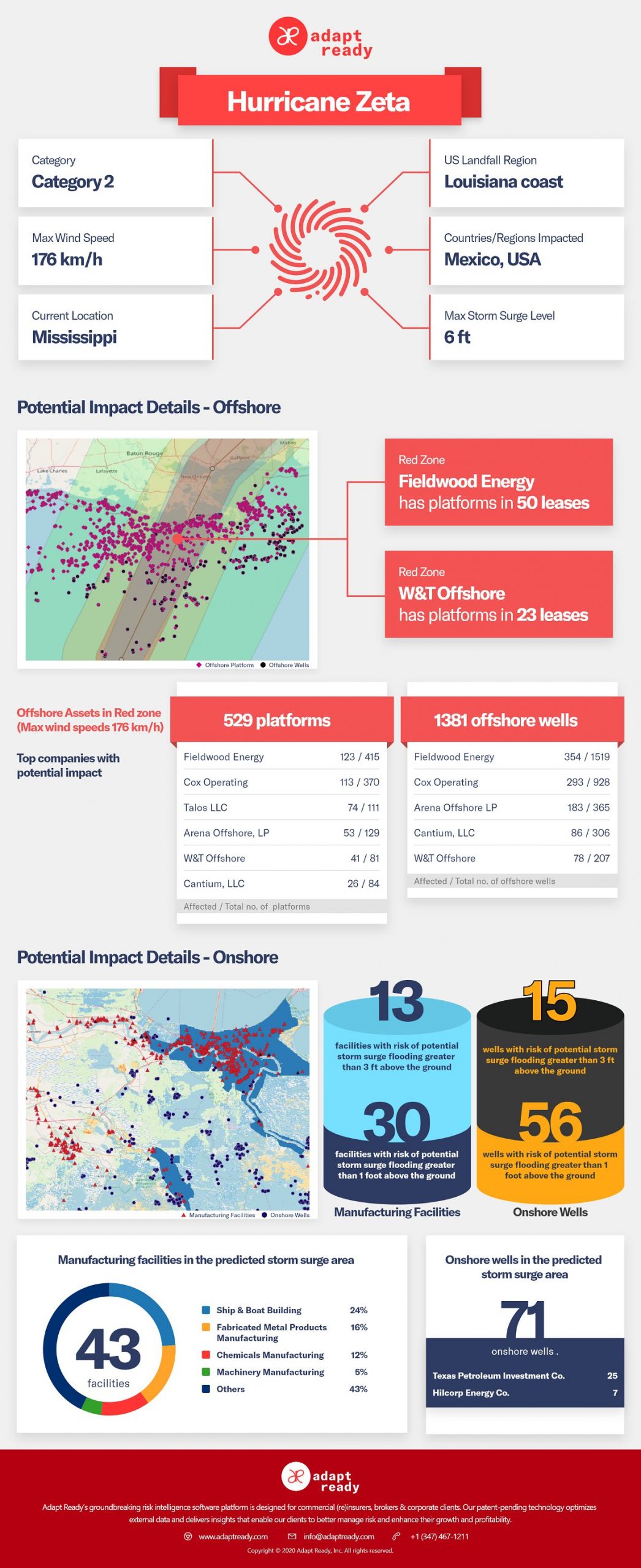 Hurricane Zeta, a Category 2 storm, made landfall near Cocodrie, Louisiana on Wednesday October 29th causing massive power outages across the Gulf Coast leaving 556,000 customers in Louisiana without power. As of this update, the storm is currently in Mississippi with max windspeeds of 176 km/h and storm surge levels up to 6ft, posing a major threat to the oil & gas assets, both offshore and onshore.
Zeta is a record 9th storm to hit the Gulf Coast this year: a devastating blow to a region already battered by Hurricane Laura (the fifth strongest hurricane on record in the US) in late August, Hurricane Sally (Category 3) in September and Hurricane Delta (Category 4) this month, causing extensive property damage and loss of life.
This continues the pattern of an increasing number of storms in the Atlantic season. In 2018 there were 15 named storms of which 8 became hurricanes and 2 were major events (Cat 3 and above). In 2019 there were 18 named storms, of which 6 became hurricanes and 3 were major events. This season we now have 27 named storms, a staggering 12 hurricanes and 4 major events making it the heaviest storm season for some time (the last time we had more than 12 hurricanes in the Atlantic season was back in 2005).
As the heart of energy production in the US it is no surprise to see the main companies and industries expected to be affected by the red zone (area with the highest predicted windspeeds) of Hurricane Zeta:
Top 5 companies operating and leasing platforms:
1. Fieldwood Energy with 123 active platforms
2. Cox Operating LLC with 113 active platforms
3. Talos LLC with 74 active platforms
4. Arena Offshore with 53 active platforms
5. W&T Offshore with 41 active platforms
Top 5 companies with offshore wells in the red zone:
1. Fieldwood Energy – 354
2. Cox Operating – 293
3. Arena Offshore LP – 183
4. GOM Shelf – 86
5. Cantium LLC – 78
With the energy sector again taking the biggest hit due to the location of predicted landfall, you might have seen in the last two reports, that both Cox and Fieldwood Energy are expected to be the most effected. This is because of the sheer number of wells and platforms they have in this region. As the two largest platform and well operators in the affected zones they will always feature heavily in such reports as Fieldwood Energy operates 23% and Cox Operating LLC 21% of all active platforms in the region.
Top 5 companies with Onshore Wells
Hilcorp Energy Company – 202
FDL Operating, LLC – 139
Texas Petroleum Investment Co. – 122
Denbury Onshore, LLC – 88
S2 Energy Operating LLC – 85
Due to the nature of risk assessment and underwriting being driven by who the lease holders of properties are, it is important to address the current leaseholders of potentially affected assets.
| | |
| --- | --- |
| Company | Leases |
| Fieldwood | 49 |
| W&T | 23 |
| Talos | 22 |
| Arena Energy | 21 |
| EPL Oil & Gas | 12 |
Leaseholders predicted to be most at risk of damage
Manufacturing facilities in Ship Building, Fabricated Metal Products, Chemicals & Petrochemicals and Mining Support are in the regions of potential storm surge flooding of up to 4ft above the ground. These businesses could well be under threat from some physical damage, but we do not think there will be significant damage or losses to these and their connected industries.
If you would like more information as to your specific portfolio requirements in the affected area or just want to be kept up to date with real time hurricane impacts this season, then please contact riskmonitor@adaptready.com.
About Adapt Ready:
Adapt Ready's ground-breaking risk intelligence platform delivers new data insights and fills in key gaps with external data, enabling our customers to better manage operational and financial risks, and to enhance their growth and profitability. With our platform, organizations can gain insights from external data tailored to specific situations before, during and after a crisis:
Before: Plan for risks by uncovering as many hidden risks as possible
During: Mitigate the impact – as events unfold, new data emerges and can inform decisions to reduce the event's impact
After: Adapt to new conditions and refine future business direction