The latest real time information is now available for tropical storm Laura, but can this come to the aid of the ailing energy market?
As storm Laura struck the Gulf of Mexico as a Category 4 storm after undergoing a massive intensification in strength in just 24 hours, the insurance industry, as always in these times, is inundated with predictions of losses and warnings from the likes of AM Best and Moody's of added stress to the balance sheets of their rated insurance companies, already weakened by Covid-19.
With the availability of new technology and powerful analytics tools now though, there is a way for the industry to react with better, more informed decision making.
Let's take the ever-suffering Energy market, which over the last few years has been hardening due to an increase in losses and a decrease in premiums, so the use of cutting-edge technology is already pivotal in reducing expense ratios – but can that technology help in real time?
Having the right information at the earliest possible time will massively help companies with their reserving, so what information can we gather right now from this data?
Port Arthur, Texas is home to the largest oil refinery in the US. Over 330 offshore drilling platforms are right in the path of Laura's peak winds, but not all rigs and refineries are equal. Older platforms (pre-2006) generally have a lower profile and therefore more likely to be affected by the predicted storm swells of over 20 feet and understanding how many of these are in insurers' portfolios is the first step of the analysis.
Currently there are 235 older (pre-2006) platforms in the storm affected area.
The platforms are owned or operated by a handful of companies that have large exposures, including Fieldwood Energy LLC, Cox Operating LLC and Arena Offshore LP.
It is also worth noting from the data that Fieldwood Energy alone owns or operates 238 fixed offshore platforms and thus has the largest exposure.
Modern, floating platforms are designed to be far more resilient to storm surges but any of the above fixed platforms caught in the storm would add more pressure to their owners.
| | |
| --- | --- |
| Company | Platform Count |
| Fieldwood Energy LLC | 238 |
| Cox Operating, LLC | 102 |
| Arena Offshore, LP | 39 |
| Talos | 19 |
| Sanare Energy Partners | 17 |
Top 5 Risk Exposures
These companies have properties at a greater risk of losses and knowing this allows insurers the opportunity for better reserving and the ability to do that faster also gives a greater understanding of potential losses.
One of the areas that Real time data can be truly beneficial in times like this is in the potential to have preventative action, which leads to faster processing of claims and not to mention identifying the business interruption impact.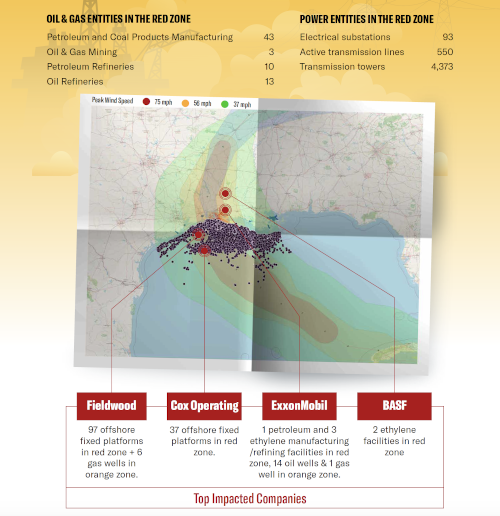 Looking at the infographic we can also see the impact to downstream energy production. With production already down 84% in the last two days this is going to put pressure on chemicals, machinery, plastics and rubber manufacturing who may have shortage issues.
The last similar storm that hit this region was Hurricane Rita in 2005, which resulted in $6.4 billion in insured losses
A final point on how underwriting can modernize with this type of data. Traditionally, energy companies have insured their risk exposures on an individual basis, with reliance placed on historical losses to assess risk, usually by considering each class of insurance in isolation.
Premium, market capacity, deductible and insurable limit are the main drivers, with only limited analytical support undertaken to assess placement outcome and pricing or the insurer's overall portfolio.
This single view of risk doesn't take into account the true nature of risk, which is far more complex and includes dependencies within and between risk exposures that can now be better understood by combining data with modern analytical capabilities. Is it not time that underwriting used this available data, gained a complete understanding of the interconnected risks in a portfolio and helped to reduce both exposures and costs in the long term over the traditional and more myopic system?
If any companies on this list are in your portfolio, then we have detailed information that may help and are more than happy to share it; so please do not hesitate to get in touch.