The past is increasingly becoming a weaker predictor for the future. Governments, communities and businesses can no longer make investments based on past climatic, weather and resource availability patterns.
The climate is changing. What was once a 100-year catastrophic event may occur once every 12 years. Gradual changes may make current productive areas un-operational. Since the past is no longer an accurate predictor of the future, companies will increasingly need up-to-date intelligence on a changing planet.
2015 was the hottest year on record, according to NASA.
The U.S. state of California is in the midst of an historic four-year drought.
In 2015, Arctic Sea ice reached its lowest maximum extent on record.
These are but a few examples of a changing planet that will impact the world for decades and centuries to come.
In the coming decades, rising sea levels, more severe storms and longer droughts will increasingly impact all organizations, in all parts of the world.
Organizations need to understand where and when impacts will occur so that they can not only make better decisions about future investments in infrastructure, operations and value chains, but to build resilience in their existing business.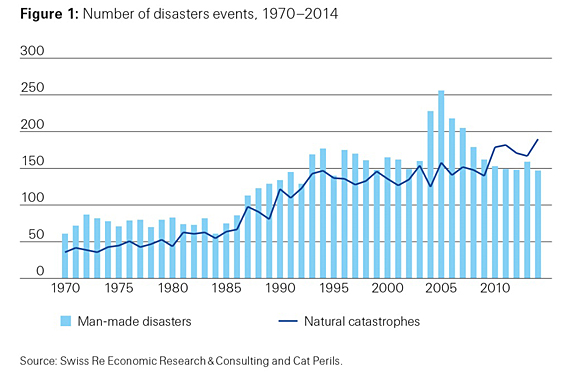 Specific instances of companies needing to adapt include:
2011
Toyota suffers an 18% dip in quarterly profits due to unanticipated historic flooding in Thailand.
2012
Hurricane Sandy costs utility provider Con Edison in excess of $550 million.
2014
The coffee industry suffers $250 million in losses due to coffee rust, resulting from a 1°C temperatures rise in Colombia's plantations.
2015
Chipotle and Starbucks grapple with sourcing issues as historic droughts in California and Brazil increase agricultural prices.
"The frequency of catastrophic events appear to be increasing, with a record number of natural catastrophes last year [2014]."